Bryce Canyon National Park
New!! Check out our Form, Post your favorite locations and see what others have posted.
Bryce Canyon has one 18 mile road to access the park. There is a shuttle service makes hiking easier because most of the hikes are not a round trip hike and you don't have to try and shuttle vehicles. You can still drive your car if you would like in the park. Bryce Canyon National Parks main attraction is the Hoodoos (A pillar of rock with a unusual shape that was created by erosion).
These hoodoos shapes create wonderful pictures, especially when they are photographed next to trees that give size to the hoodoos. There are a number of area's on the east side of the park that have these hoodoos, the largest is the Bryce Canyon Amphitheater.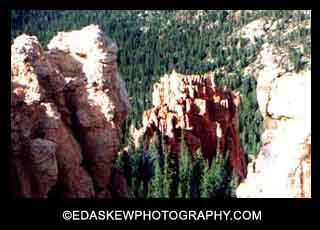 This make sunrise the best time of the day to photograph them. The red colors of the rocks and the morning light make the hoodoos bathed in morning light glow. For sunrise, Bryce Point and Sunset point are great locations for photograph's.For sunset Inspiration Point and Paria View are great locations for sunset photography.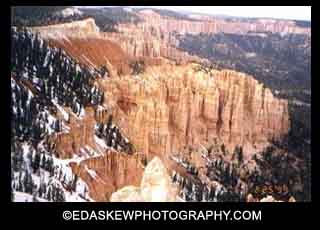 Home | About Us | Contact Us | Visitor Agreement | Advertise | Privacy | Store | Newsletter